Blog Archives
SI's Ben Golliver on Nerlens Noel's NBA prospects after the Freshman star tears his ACL:
Kentucky announced Wednesday that center Nerlens Noel, regarded as one of the top prospects in the 2013 NBA draft, tore the ACL in his left knee during a Tuesday loss to Florida, an injury that will end his freshman season.
"Minor setback for a MAJOR comeback!," Noel tweeted on Wednesday. "I love you all and can't thank y'all enough for the prayers."
There is never a good time and place for an ACL injury but this is about as bad as it gets. Noel was less than five months away from the 2013 draft, in which he has been regarded as a likely top-three pick, and perhaps the No. 1 overall selection. His injury generally carries a nine-to-12 month recovery, forcing him to choose between returning to Kentucky for his sophomore season, joining the team midseason once he's healthy, or taking his chances by declaring for the draft.
SLAM Online & Sports Media World's Brendan Bowers with lottery pick MKG as he prepares for June's NBA Draft:
Repetitive thuds of bouncing basketballs met Michael Kidd-Gilchrist last Wednesday, as he entered a Cleveland-area gym to continue his training for the NBA Draft. Wearing a grey Nike sweat suit and sandals, with a backpack slung over his right shoulder, his wide smile quickly engaged the many youthful eyes that welcomed him.
The player known throughout the basketball universe as MKG was once a McDonald's All-American from New Jersey, then a National Champion from Kentucky, and now the strongest candidate for the team picking second overall in next month's NBA Draft. He walked into his second workout of three for the day with the purpose of a 10-year pro, yet grounded enough to share a gym with basketball players of all ages.
As his backpack slid down over his shoulder, and a pair of Nikes he'd soon change into flopped onto the floor beside him, I walked over to say hello. I had previously assumed a player preparing for the NBA Draft would request and require a closed practice facility as he trained. In the case of Michael Kidd-Gilchrist however, I was wrong.
Sports Illustrated's Rob Dauster on the college commitments of top prospects Muhammad and Noel: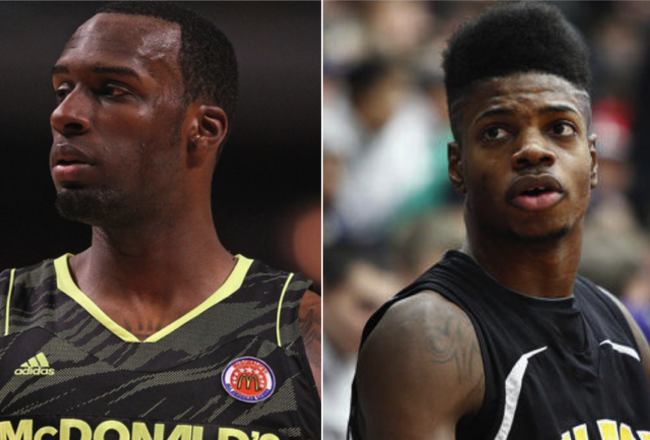 "Wednesday was so much more than just the first day of college basketball's spring signing period. With the nation's top two recruits — Shabazz Muhammad and Nerlens Noel — announcing where they intend to spend their likely one-and-done seasons, every 2012-13 projection hung in the balance. Muhammad surprised no one by committing to and signing with UCLA, while Noel kept Georgetown and Kentucky fans waiting before revealing a 'UK' symbol shaved into the back of his trademark flat-top.
Here are five quick thoughts on their commitments:
1. Is this recruiting class fool's gold for Ben Howland? UCLA coach Ben Howland needed this recruiting class desperately. After spending the last four seasons proving nothing more than his inability to build on the success of three straight Final Four trips from 2006-08, Howland watched as his second NIT-bound campaign in the last three years was punctuated by a story from Sports Illustrated that highlighted everything negative happening in the program. The notion that drew the most criticism was the accusation that Howland allowed Reeves Nelson to deliberately injure fellow team members without repercussion.  As poorly as that reflects on the program, it looks even worse for Howland.
The fact that the ninth-year coach even managed to keep his job centered not only on his three consecutive Final Fours, but, perhaps more pressingly, on the idea that Howland could lure two of the top three national recruits in Muhammad and Kyle Anderson. Read the rest of this entry →