Category Archives:
NBA
Chicago Bulls star PG Derrick Rose injures his other knee vs Blazers, out again indefinitely after right meniscus tear: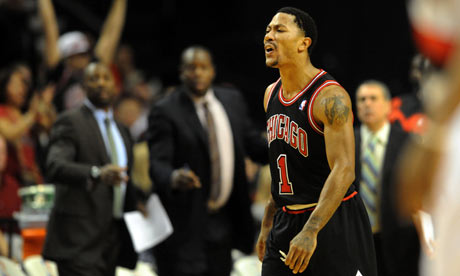 Via CBS Eye on Basketball:
The news for Derrick Rose isn't completely devastating but it's also not good. When he went down with a right knee injury in the third quarter of the Chicago Bulls' loss to the Portland Trail Blazers Friday night, it was immediately feared that he had torn his right ACL and would be done for the year. While the injury isn't quite that serious, the team announced on Saturday that he has a meniscus tear in his right knee and will require surgery.
He's out indefinitely.
Bulls guard Derrick Rose sustained an injury to his right knee against the Portland Trail Blazers on Friday night.

Subsequent examinations and an MRI confirmed a medial meniscus tear to his right knee, which will require surgery. Rose is out indefinitely, and will not accompany the team on the rest of its current road trip.